Does guest self-ordering and payment have a role to play in luxury hotels?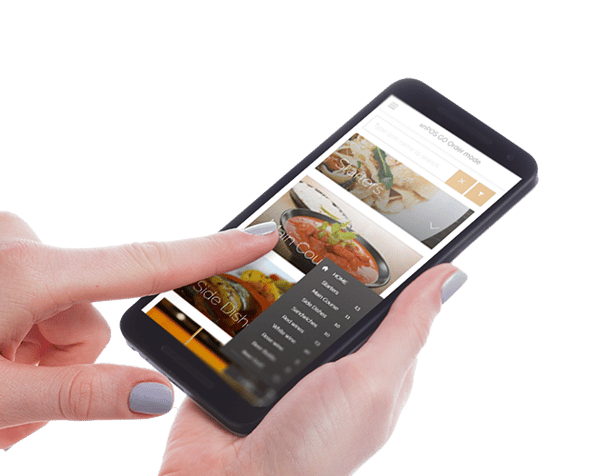 By Emmanuel Clavé, Vice President of Product Management for xnPOS, a leading hotel point of sale system, and former Director of IT at Rocco Forte Collection, the leading European luxury hotel group
There is a well established view that the increasing trend for guests to use their own mobile devices to order and pay for food & beverage is not appropriate in luxury hotels who pride themselves on high levels of personal service for their guests.
But is this really the case, and is there a role for Guest Self -Ordering & Payment ( GSOP) systems in even the most luxurious hotels?
Hotel restaurants
A luxurious well-crafted menu with heavyweight paper, well designed layouts and elegant fonts is an integral part of the fine dining experience and cannot be fully replaced by a digital menu on a guest's mobile phone, no matter how well designed the user interface.
And a well-trained, knowledgeable server interacting with the guest cannot be replaced by the guest manually keying in an order into a mobile phone or tablet…
But while the selection and ordering phase of a fine dining meal may be diminished as a digital experience, what guest really wants the frustration and wait of trying to catch the eye of a busy server to ask for the check and then wait even longer for it to be brought to the table before payment can be made. Payment in a busy restaurant is perhaps better handled by giving the guest the option to pay immediately using his own mobile device. This arguably represents a better guest experience than making the guest wait for a server to become available and take payment. It also reduces the number of journeys to a specific table made by servers thereby freeing them up to provide higher levels of personal service to other guests.
Also the luxury menu and pen & paper bearing server is to many people a traditional view of fine dining which may be becoming increasing less relevant. Many younger guests, who are very comfortable with ordering and paying for other goods and services on their mobile phones, may actually prefer the flexibility, speed and reduced personal contact which can be achieved when using a GSOP system. Similarly international guests may like the option to use a digital menu which is available in their own language.
And while a luxury hotel may decide that there is no place for GSOP in its Michelin starred fine dining restaurant the use of GSOP may be appropriate in more informal outlets such as a coffee shop, lounge or pool bar.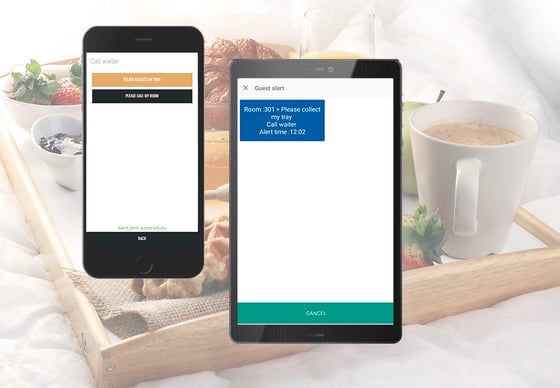 In-room dining
Surveys have shown that guests choosing in-room dining are looking for convenience rather than formal service so this makes guest self-ordering a perfect option. Guests can order at their own timing and convenience without the need to ring for room service . Using a digital menu also allows guests to easily filter out dishes with nuts or allergens or just show them vegetarian and / or vegan options. Depending on the GSOP system a digital menu also allows the guests to view real time availability of menu items such as daily specials.
From the hotel's perspective the use of GSOP increases efficiency as the order is sent direct ( assuming the GSOP is integrated to the hotel Point Of Sale system) to the kitchen printer or kitchen display system and reduces errors from having to key a telephone order into the POS system. A well designed digital menu can also increase average check size through the use of carefully targeted up-sell prompts to encourage the guest to order extra sides or wine with their meal.
With an integration to the hotel's Property Management System, room authentication and credit check can be achieved, and with some GSOP systems, the guest can even sign the check on their device. The signed check can be recalled at check-out in the event of any disputes by the guest.
Outside and low staff service areas
In outside areas such as swimming pools , terraces or rooftops it is often difficult for hotels to provide sufficient serving staff to provide a luxury guest experience. This may be due to staff shortages or just the poor economics of service in low volume areas.
But in the current climate hotels are looking to leverage all areas of their real estate to drive additional revenue. One way in which such areas can be serviced effectively is by using guest self-service. QR codes can be made specific to individual tables , loungers or cabanas. With the guest ordering and paying on their own mobile phones the servers journeys are restricted to delivering and collecting revenue generating orders.
If a hotel wants to maintain a high level of personal service the guest self-ordering system can just be used to "call a server".
GOSP gives the guest an additional option
i therefore believe that GSOP has a role to play, even in the most luxurious hotels. The actual use of GSOP will vary from brand to brand, and property to property and will likely play a complementary role with the existing hotel service models to give guest more options and enhance their overall experience.
For example, some luxury hotels may limit the use of GSOP to in-room dining, or offer it as a quick and easy payment option in some or all of their F&B outlets. Guest self-payment can also be included as part of a full service workflow by the server presenting the guest with the check containing a QR code which the guest scans to access the check and then pays using his mobile device.
Most GSOP systems are now easily accessed by the guest scanning a QR code so there are no apps for the guest to download.
No digital platform will ever replace personal service in a luxury hotel but it may help to improve the guest's overall experience by giving the option to save their time by speeding up the elements of traditional service on which they place less value.
And after all isn't choice, and giving individual guests what they want, a key part of a luxury experience?
xnPOS GO
Our own xnPOS Go GSOP solution is highly flexible and can be used to integrate into all, or parts of, a hotel's service workflows.
For example in a dining environment the guest can choose to place an initial order via a server and then request additional wine and payment using their own phone. The guest can use xnPOS GO to call a server at any point of their dining experience.
xnPOS GO is also perfect for in-room dining offering guests the ability to order in multiple languages and even call for the tray to be collected when they have finished their meal or drink. A guest can also use xnPOS GO to order breakfast to be delivered to their room the next morning.
xnPOS GO provides flexible payment options allowing the guest to add gratuities and pay by credit card or charge to their room .
xnPOS GO is seamlessly integrated into xnPOS , our leading cloud based POS systems, so that any menu item changes are immediately available on the digital menu. xnPOS GO connects your guest to the hotel point of sale system by using their own mobile device.
For further details on xnPOS GO please visit https://www.xnpos.net/guest-self-order
Want to know more? Have some questions? Like a demonstration?