The Doyle Collection continues its roll out of xnPOS with an installation at The Dupont Circle in Washington DC.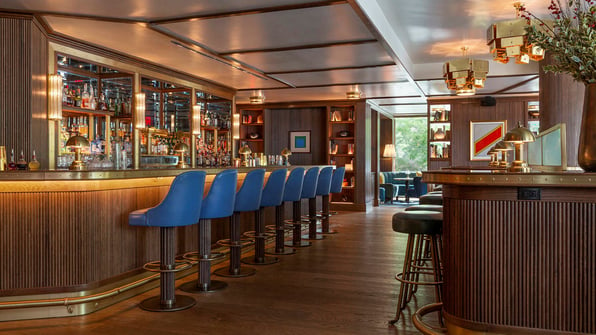 The Doyle Collection installs xnPOS at The Dupont Circle in Washington DC, the sixth Doyle Collection property to migrate its point-of-sale system to xnPOS, the leading point-of-sale system designed specifically for hotels.
Sunrise, Florida – global hospitality management software company Xn Global Systems Inc. proudly announced today that its long-standing POS customer, The Doyle Collection, has selected xnPOS to be the replacement POS for The Dupont Circle Washington, DC.
The first implementation of xnPOS with The Doyle Collection was at The Bloomsbury Hotel in London, UK in 2017. Since then, xnPOS has been implemented in four additional Doyle Collection hotels. The implementation at The Dupont Circle further formalizes and extends the partnership between The Doyle Collection and Xn Global Systems, to include next generation POS solutions that deliver better performance and enhanced functionality and flexibility for The Doyle Collection's growing business operations.
Mark Payne, General Manager, The Dupont Circle commented: "The Dupont Circle is an individual, unique, high-profile hotel, which has its own demanding requirements for a point-of-sale system. The positive experiences of previously installing xnPOS at our UK properties made it an easy decision to select xnPOS as the preferred solution to replace our existing POS.
Mark continues, "xnPOS is an innovative and modern POS with multiple front-end options including highly functional mobile tablets and a QR code-based web app for Guest own ordering and payment, all managed from a single web portal. We are confident that xnPOS will provide improvements in guest service, performance, functionality and flexibility benefits to our F&B operations and support our future requirements for business growth."
David Lewis, VP Sales Europe and North America, Xn Global Systems commented: "We'd like to thank everyone involved at each Doyle Collection property, along with the executive team, who have helped to ensure our POS systems have been an ongoing success at The Doyle Collection and support for our expansion in the North American Market. The next-generation innovations within xnPOS were brought about by listening to our customers and we will continue to do so."
About xnPOS
xnPOS is a fully internationalized point of sale system designed to meet the specific requirements of the hotel industry. It is a centrally managed, full-service, cloud system with enterprise scalability, security and performance. With a focus on self-service for guests and mobility for hotel team members, xnPOS can help revolutionize your hotel service and increase profitability. xnPOS is available in over 50 countries across The Americas, Europe, Middle East and Asia PAC.
xnPOS is designed to help hotels manage their F&B operations in a more efficient and profitable way while at the same time increasing guest satisfaction and service. The xnPOS team understand that hotels require more than just a restaurant POS, but rather a fully connected system which enhances guest service in all areas of the hotel including in-room dining, the lobby, the pool or beach, and even on the golf course. xnPOS is also flexible enough to meet a hotels's retail needs in the hotel shop or lobby guest pantry.
About the Dupont Circle Hotel
As part of The Doyle Collection, a family-owned Irish luxury hotel group with a 60-year heritage, the Dupont Circle exudes a unique warmth and pervasive atmosphere of Irish hospitality – imbuing the space with the familiarity of a members' club and the intimacy of a private home. The complete refurbishment of the hotel has been the vision of Bernie Gallagher, Chairman of The Doyle Collection and daughter of PV Doyle, founder of the eponymous hotel group. Mrs. Gallagher worked with Clodagh and Martin Brudnizki to create a glamorous hub in the world's most powerful city – seamlessly weaving contemporary comfort and style with a 1950s aesthetic that pays homage to the building's mid-century beginnings. Brudnizki focused on bold colors and varying textures in the bar and restaurant, while New York-based Clodagh incorporated holistic touches like live-edge wood and handwoven rugs in the penthouse suite and reimagined lobby.  
About The Doyle Collection
At the heart of our business is a warmth of service that stems from our family ownership, imbuing our properties with the familiarity and intimacy of a private home. Each of our eight hotels – landmark buildings in unrivalled city locations, has its own distinct personality that is rooted in, and authentic to, its neighborhood. Innovation and ongoing investment ensure a boutique, cosmopolitan yet local feel – as seen in our cool destination restaurants, bars, and event spaces – while our heritage lends character to our vision of informal luxury, timeless style, and the very best guest experience. www.doylecollection.com
Want to know more? Have some questions? Like a demonstration?