Xn protel Systems selected as Point of Sale provider to O'Learys Sports Restaurant in UAE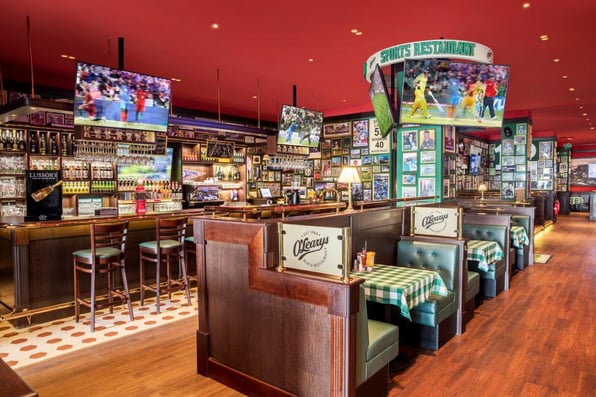 Xn protel Systems have been selected by O'Leary Sports Restaurant to supply their xnPOS point of sale solution to TIME Hotels new standalone franchise restaurant O'Learys – Sports Restaurant as the newest hospitality venture across the UAE.
The first xnPOS installation was successfully undertaken at the recently opened O'Learys Sports Restaurant on Dubai's Sheikh Zayed Road. The casual dining venue has a total capacity for 250, spanning six different seating areas within the restaurant, the terrace, in the shisha area and around the bar. The installation has a mix of fixed workstation and fast order mobile devices, and the web based central reporting give instant access to sales figures to the company.
The 596-square-metre restaurant, with its Boston sports teams themed interiors and large screen televisions and video gaming facilities, is set to become a popular venue for drinks and bites while watching the big match, enjoying a meal with family and friends, or simply relaxing with colleagues after work.
Mohammad Awadalla, CEO, TIME Hotels Management commented:
"The Middle East is a prime target market for O'Learys Sports Restaurant, with its proven concept and multi-segment consumer appeal. We are confident that diners and sports fans will appreciate the unique concept and lively family atmosphere. We see further opportunities to place the O'Learys brand in key high traffic, high value locations across the UAE and the region in the future."
The new point of sales system will provide the team at the outlet efficiency in day to day jobs, dynamic, secure and flexible cloud base solution. O'Learys was the pilot launch but we will follow on the same trend across upcoming outlets and in the future integrating it into our hotel chain, added Joseph Fayad, Corporate IT Director, TIME Hotels Management."
Emmanuel Clavé , Vice President GCCI , Xn protel Systems commented:
"We are delighted to have been chosen by TIME Hotels Management to provide our xnPOS point of sale solution in their first ever non-hotel venture and we wish the new business every success. The successful implementation at O'Learys Sports Restaurant in Dubai is also a milestone for Xn protel Systems as it was the first project undertaken by our new Dubai based office – we look forward to many more across the region!"
Want to know more? Have some questions? Like a demonstration?