xnPOS, the leading point of sale system designed specifically for hotels, launches new website and opens US logistics centre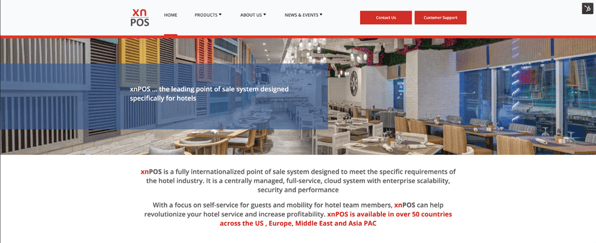 The launch today of the new xnPOS website, www.xnpos.net, and the opening in January of a new logistics centre in Miami reflects a period of rapid sales growth in the hotel POS sector, following a significant investment in product integration and development.
www.xnPOS.net
The xnPOS team are delighted to announce the launch today of a new dedicated website, www.xnpos.net, to focus on xnPOS, a market leading cloud-based, point of sale system, designed specifically for hotels. The new xnpos.net website complements the existing xnprotel.com corporate website, which continues to showcase the full Xn protel Systems product range.
The launch of www.xnpos.net reflects the global rollout of xnPOS over the last two years, which follows an intensive period of systems integration and functionality development to enter new markets and further specialise the system to meet the specific requirements of the hotel POS marketplace.
A significant investment in product development and systems integration has produced a modern, highly functional and integrated POS system. A self-service guest kiosk is available for "grab and go" lobby shop outlets. An expanded range of integrations, including payment gateway platforms, table reservation systems, hotel PMS and business intelligence systems, are all now available. Also released is xnPOS GO, a QR code based digital menu and guest ordering solution.
xnPOS also includes a full mobile POS system, pay-at-counter, pay-at-table and QR-pay modules. All xnPOS modules are seamlessly integrated into a single cloud transaction platform , built for enterprise scalability and for operational efficiency.
Opening of a new US logistics centre in Miami
The new logistics centre in Sunrise, Miami was opened by Xn Global Systems earlier this year in January and represents a major expansion of capacity for the delivery of xnPOS solutions in the US and Canada, and shortly Latin America.
Greg Spicer, Chief Executive, commented :
"We are very excited about the launch today of the new xnPOS.net website. xnPOS continues to gain significant market traction across the US, Canada and Europe so now is the right time to reinforce this rapid sales growth with the launch of a dedicated website, 100% focussed on the hotel POS market place.
Our new logistics centre in Miami will allow us to meet the significant increase in demand for xnPOS that we are seeing in the US and Canada and also to further enhance our service delivery to hotel customers. It is also the perfect base to support our planned market entry into Latin America later this year. "
Want to know more? Have some questions? Like a demonstration?